Gea Bock Compressors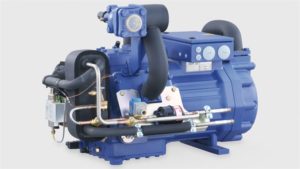 HGZ Two-Stage Compressors
Based on the 6-cylinder compressor HG7, a selection of two-stage variants is available for extended use in intense cooling. The selection of the liquid intercooler unit is available for three different refrigerants: R404A (R507), R410A and R22.

HA Single-Stage Compressors
Semi-hermetic HA compressors are primarily used for deep-freezing. Suction gas intake is done directly into the compressor. Motor is cooled by an integrated ventilation unit.

HG Single-Stage Compressors
The HG model series consists of state-of-the-art classical suction gas-cooled compressor technology. Assurance of effective lubrication by an oil pump, application of exchangeable electrical motors, as well as manufacture of very solid and rugged compressors is ensured.